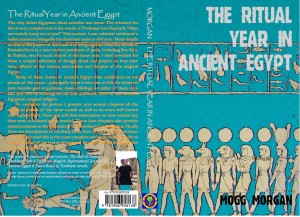 The Ritual Year in Ancient Egypt
Lunar and Solar
Calendars and Liturgy
Mogg Morgan
Format: Softcover/272 pp.
ISBN: 9781906958138
£14.99/US$23
Subjects: Ancient Egypt/Egyptian Magick
The very oldest Egyptian ritual calendar was lunar. The evidence for this is very complex and in the words of Professor Leo Depuydt, "does not exactly jump out at you!" This ancient lunar calendar continued a veiled existence alongside the dominant solar or civil year. Many details are lost so the project of this book is to bring together what has survived. Revealed here is a very ancient pantheon of gods, including Set, Min, & Hathor, one for each month of the lunar year. I have provided for them a unique collection of liturgy, ritual and prayers as may have been offered in the homes, sanctuaries and temples of the original Egypt.
Many of these feasts of Ancient Egypt were celebrated on the phases of the moon – principally when it was new or full. So whatever your favorite god or goddess, make offerings on either of these days and you will be reviving an old and authentic form of the Ancient Egyptian magical religion.To complete the picture I present over several chapters all the technical details of the lunar month as well as its more well known civil replacement. Here you will find information on how certain key days were calculated when needed. These later chapters also provide related material on the mysteries of the Northern Constellations.
Finally there are descriptions of the thirty lunar days of each month and lunar omens. So in total this is the most complete and authoritative guide to the ritual wheel of the year at all stages of its use in the Ancient Egyptian magical religion.