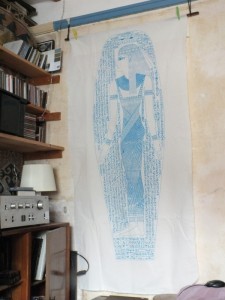 Nuit wall hanging shows Goddess Nuit from Coffin of Sety I. Egyptianised shroud cover, limited edition screen print on unbleached calico or bleached white muslin, 1400mm x 800mm.
Designed as outer cover of a shroud or to be laid over the deceased or as a pall/mortcloth over their coffin before burial.
Information

The sky goddess Nuit is one of the oldest deities in the Egyptian pantheon. Her name literally means "The watery one" New + t. She signifies "the Sky" but not as a lifeless roof of heaven but as a dynamic entity, creating and destroying (see Hollis 87). She also represented the entire sky, night and day as well as large features such as the Milky Way.
She is "the reassuring image of the great mother to whom we all return at death, the holy mother who can resurrect the dead, the sacred womb from which the dead are reborn" these truths maintained from very earliest times right until the end of historic Egypt. (Lesko)
As part of the mortuary cult, Nuit is the personification of the coffin. The coffin is a stylized womb. Wrapped inside this womb, the deceased waits to be reborn after a long period of incubation.
"Oh my mother Nuit, stretch yourself over me, that I may be placed amongst the imperishable stars, which are in you, and that I may not die." (source Mogg Morgan Phi-Neter: power of the gods)
Canopic Jars
Suitable for storage of ashes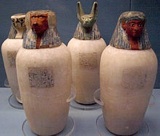 Available singly or in set of four