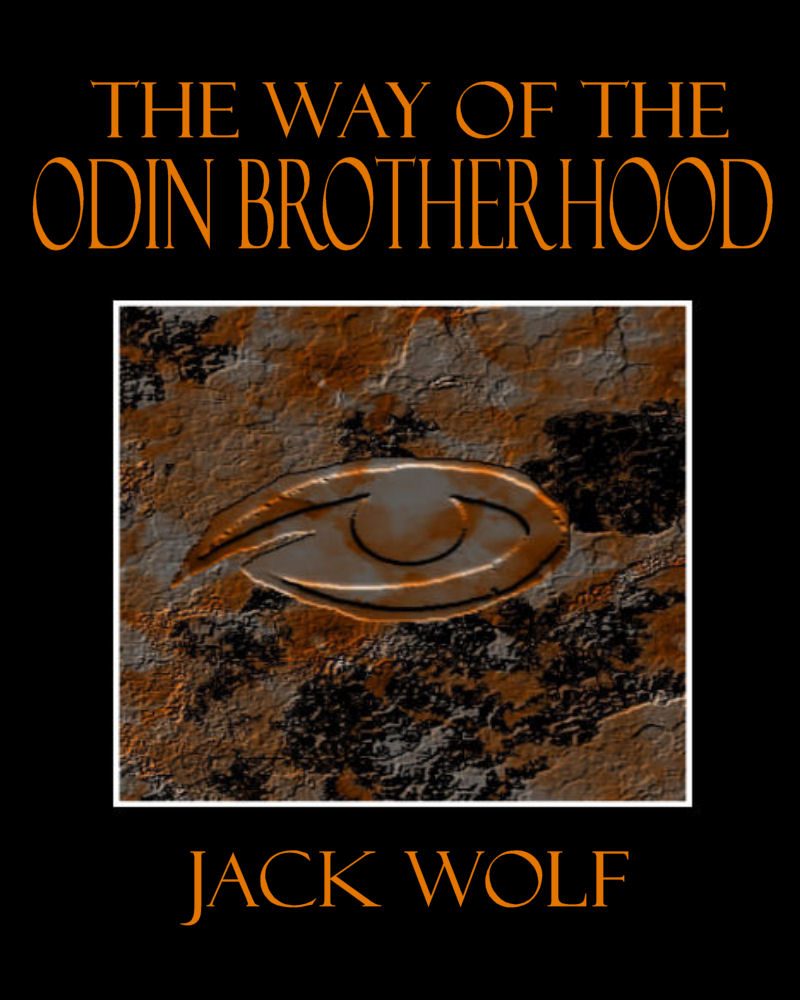 Click here for Kindle UK edition
Click here for Kindle USA edition

The Way of The Odin Brotherhood
Jack Wolf
Format: Softcover
ISBN: 978-1-906958-53-4
£12.99/US$20
Subjects: Northern Tradition/Odinism/Secret Societies.
'Would you know more?'
It began with a simple question, sent from an unknown e-mail address, and it kindled the fires of a quest that would take him on a journey of discovery spanning several years; a journey that would lead him closer to the enigmatic secret society known as the Odin Brotherhood.
Continuing a quest for understanding which had been started by his mentor years earlier, and following a trail of cryptic clues and mysterious lore, Canadian author Jack Wolf set out on a journey into the workings of this largely undocumented secret society. Accompanied by a mysterious informant known only as Crow, he embarks on a series of adventures that will ultimately draw him closer to penetrating the history, lore and secrets of this elder pagan fraternity – an entity which has existed for nearly six hundred years.
————–
Dr Mark Mirabello's Foreword to Jack Wolf's The Way of the Odin Brotherhood
"I have sometimes wondered if it were possible that unrecognized forces of the past or present– or even the future– work through the thoughts and actions of living men."
– Robert E. Howard, December 14, 1933
Mysteries have always intrigued me.
For example, Vallalar, also known as Ramalinga Adigal, disappeared from his one-room residence in Mettukuppam, India on January 30, 1874. After he had given his last and most famous lecture on the "nature of the powers that lie beyond us and move us," he locked himself into his home and told his followers never to open the door. He said anyone entering would find nothing.
Vallalar's seclusion generated rumors, and the British Government finally forced the door in May. They found an empty room and no clues. The facts were reported in the Madras District Gazetteer.
*****
In my own life, I have experienced the enigma of the Odin Brotherhood. This secret society, composed of men and women who use darkness and stealth to preserve the lore of old gods and the purity of old ways, thrives on mystery.
Who are they? Why are they here? Why does legend surround their origin?
No one really knows the answers to such questions, but it clear that anyone who encounters the Brotherhood is never the same. Life has many moments of transformation–as an elderly Ethiopian woman once said to Leo Viktor Frobenius (1873 – 1938), the fabled scholar, when a woman is deflowered, or when a pubescent boy undergoes the ordeal of circumcision, each is changed forever–but when men and women encounter the Odin Brotherhood, they are transfigured.
Since publishing my little work on the Odin Brotherhood—in 1992—my contacts with the arcane have increased in number. I have been contacted by an alleged time traveler, I have been visited by a woman claiming to be from Odin, I have received cryptic verses (postmarked from Frankfurt, Germany) supposedly written by Odin himself, I have been offered membership in a French suicide cult, I have been asked to help with an exorcism of an adolescent deaf girl, and I have been visited by a traumatized woman who claimed to be a refugee from a subterranean world where humans are "bred like cattle and hunted like rabbits." The list is extensive.
My hope was to be invited to join the Academy of Secrets, founded by Giambattista della Porta (1535? – 1615) and open only to those who had made important discoveries, but that has not yet happened.
Are any or all of these contacts connected to the Odin Brotherhood? As a believer in the process that Professor Karl Jung called "synchronicity," or "meaningful coincidences," I think that they are.
I cannot prove the linkage, but I do know that by publishing my slender book I did meet Jack Wolf. A Canadian, an acolyte of E. Max Hyatt, and an associate of Cassie Strong, a magician, Jack Wolf is the man who crafted the volume that you now hold.
And now, as my life has changed, so shall his.
***
After remaining hidden for so long, why is information on the Odin Brotherhood now emerging? Members still keep their involvement secret, but why is their "ancient lore" now appearing in books, articles, videos, and Internet sites?
Perhaps, as our civilization dies, we are being offered a "beacon of light."
Many historians date the decline of the West from World War I, and is it a coincidence that weeks before the war, on July 20, 1914, that modern humans rediscovered Trois-Frères?
Used for 20,000 years as a religious site, this huge labyrinth, reached in total darkness via a narrow passage—only one foot high and 120 feet long—was dedicated to the old gods of Europe, when man hunted savage beasts, dressed in rawhide, and huddled around open fires.
Perhaps, in this time of distress, the old gods and goddesses from the era of the "Ice" are stirring once more.
And, they are using Jack Wolf to help us.
Mark Mirabello, Ph.D.
Year 591 of the Odin Brotherhood

Related posts: