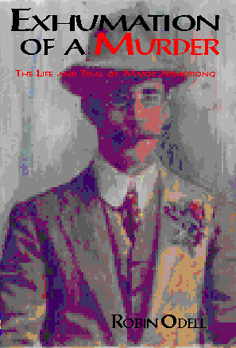 Exhumation of A Murder
The Life and Trial of Major Armstrong
Robin Odell
Format: Softcover
ISBN: 186992892x New ISBN 9 781869 928926
£12.99/US$26
Subjects: True Crime
"The case of Major Armstrong, the celebrated Hay Poisoner, the only solicitor ever to hang, is one of those classic, old-fashioned English murders which hail from the heyday of court-room drama when, with the hangman lurking in the pine-and-panel wings and the black cap an object of horrifyingly alarming currency rather than mere symbolism, the loser in 'the black dock's dreadful pen' lost all. It comes straight out of the pages of George Orwell's essayed nostalgia for the era of the Great British Murder, when, after a Sunday lunch of roast beef and Yorkshire, you put your feet up on the sofa and, with a good strong cup of mahogany-brown tea, read all about the latest 'good' murder in the News of the World. And the Armstrong case was unquestionably one of the best; right up there in the grand tradition of Dr Palmer of Rugeley, Neill Cream, Mrs Maybrick, Dr Crippen, Seddon, and George Joseph Smith."
– – Richard Whittington-Egan

"Now the case itself, as has been said to you, is a remarkable one, a deeply interesting one and I doubt whether any of us engaged here today have in recollection so remarkable a case in its incidents."
– Mr Justice Darling, Herefordshire Winter Assizes, Thursday, 13th April 1922

"On the rim of the twentieth century loom the Titans – Seddon, Armstrong, Crippen, G.J. Smith and Landru, and then, in the era of booze and bullets, art descends literally to hack-work."
– Dorothy Dunbar, Blood in the Parlour

Praise for EXHUMATION OF A MURDER
"This is, indisputably, a comprehensive study; embracing every aspect, exploring every angle; chronicling events and interpreting participants from remote and obscure beginnings to violent or peaceful ends. I advise anyone who has long subsisted on intriguing scraps and morsels about Armstrong to have this book ready to hand when leisure offers time for a satisfying repast…it is unique, and will inevitably become the last word on Armstrong and the case which bears his name."
– – Edgar Lustgarten
EXHUMATION OF A MURDER is the fruit of painstaking research over many years by J.H.H.Gaute, a well known authority on the literature of crime and a former editor on the genre for a major publisher, and the late Dr Hubert Trumper who lived at Cusop, near Hay-On-Wye, the village where Armstrong lived and carried out his crime. This book contains a wealth of documents and photographs.
****************************************************
SPECIAL EVENT
Featuring ROBIN ODELL in HAY-ON-WYE.
****************************************************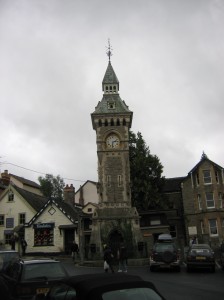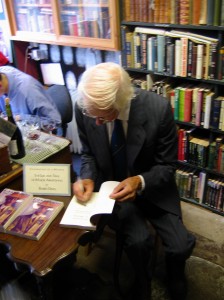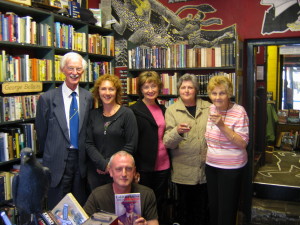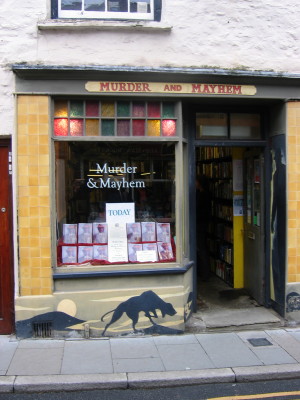 On Saturday 2 September 2006, we travelled to the town of Hay-On-Wye to accompany Robin Odell for a book signing at the atmospheric Murder & Mayhem Bookshop, 39 Lion Street, where there is a good selection of True Crime and Murder & Mystery Fiction titles, by masters such as Dennis Wheatley, Sax Rohmer, Bram Stoker, and Robin Odell.
Robin was fresh from his lecture to the History of Medicine Society of Wales. Due to a booking mishap, it was relocated from Hay to Builth Wells! Even so there was a steady stream of interested customers and connoisseurs of the genre – some of whom, are shown in the photo: From left to right, Robin Odell, Anne & (sitting) Derek Addyman, Robin Odell's partner 'Non', and holding glasses of wine are two lovely ladies, Joan & Friend. Thank you ; )
– Murder & Mayhem Bookshop, 5 Lion Street, Hay-on-Wye, Hereford, HR3 5AA.
Hay-On-Wye is a good place with a buzz to visit. There are lots of bookshops covering subjects for every interest, as well as eating places and shops for more retail therapy. We stayed up the road in Hereford and were directed to the Rose Garden pub just north of the Roman Road in Munstone. The beer was excellent – Flowers IPA and the home made food really was just that. In Hay we had another lovely pint, Old Black Lion Ale at the Black Lion in Lion Street – Major Armstrong's 'local' so they say – although not too local as his wife didn't like him drinking! The food there was also really good. The cafe opposite the Clock Tower (see below) is very user friendly – newspapers, real coffee –
For information about Hay-On-Wye, including town maps, books, the Literary Festival, places to eat, hotels, B&Bs, shopping, and things to do, please check out the Official Hay-On-Wye Website www.hay-on-wye.co.uk
*****