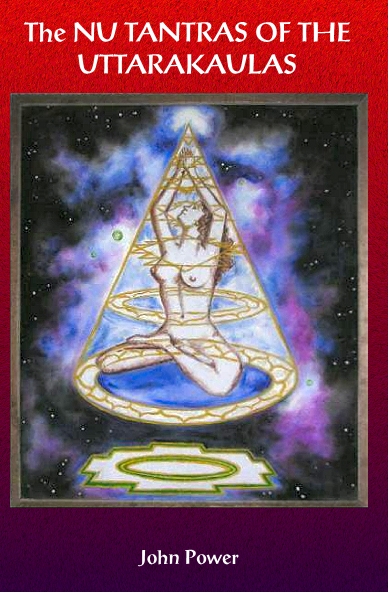 Nu Tantras of the UttaraKaulas
John Power
Publisher: Phoenix Publications Chelmsford 2011
Format: Softcover/100 pp/10 Colour plates.
ISBN: 978-0-9542286-6-8
£11.99/US$22
Subjects: Tantra
"The book by John Power is one of the first attempts I have seen to write a critical analysis of some of Mahendranath's writings. John was entrusted with the Uttarakaula tantric aspect of our world and he has obviously nurtured and worked with his specialty for as he says 21 years (and more now.) At the end of his analytical work he includes original, very creative and fascinating rituals that are the summation of his experience. It is quirky and personal and that adds greatly to its value. I have often gotten swamped by Mahendranath's large output of written words. To see a few of his major tantras re-worded, discussed, analysed and emotionally digested is so helpful. I recommend that those who are interested in the works of Mahendranath give this work more than a quick cursory glance."
– Lalita Devi, Canadian Initiate and Tantrik Yogini.
"Power begins with an intro that traces his own relationship with Tantra, before clearly laying out the perspectives he is viewing the tradition from and giving a biographical note about Shri Dadaji Gurudev Mahendranath. He then proceeds to summarise Dadaji's initiation and writing, then includes some of his own original rituals and images. This book is beautiful. So what validity does my opinion have especially in the light of my own rather self damning opening statement (to compound this outrage I neither understand Sanskrit nor am an initiated Tantrika)? However I have been a practicing magician for a long time, have lived in both the occidental and oriental environs, and have the insight into art, magick and humanity that comes from age and experience. I believe John Power has written a book that is of great value. It is about love and freedom; fun, liberation and compassion; and ways to work for and with this in a creative and progressive way. 'The Nu Tantras of the Uttarakaulas' is about magick from the heart and the inner self; the greatest and most transformative magick there is." (Charlotte Rodgers, whose The Bloody Sacrifice is published by Mandrake)