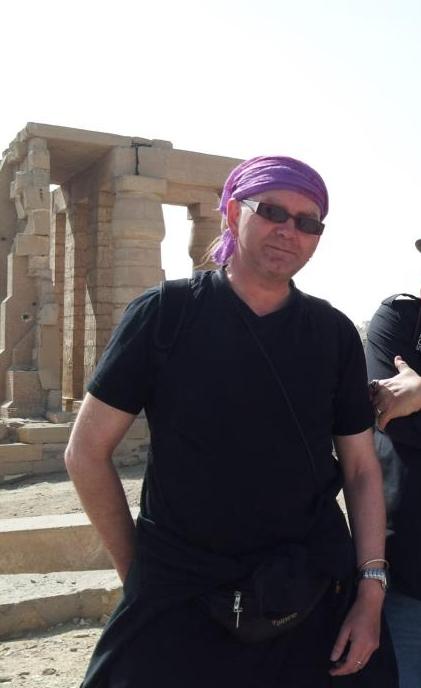 I work for innovative 'new edge' publisher Mandrake of Oxford, recently described as a 'respected literary catalyst', and responsible for the discovery of many new authors, including his friend and onetime mentor Jan Fries.
I regard myself as a practitioner-cum-scholar of all aspects of occultism. I was a Wellcome research student at Oxford, where my teacher was the late Professor B K Matilal, a widely respected expert on South Asian thought. Over the years I have been exploring the connections between the popular magick of ancient Egypt and its continuation/crossover with the living magical traditions of the middle East, and the Kaula/witchcraft of south Asia and beyond
I have a particular interest in divination, dream interpretation and oracles. I've experimented widely in using some ancient oracles to address modern queries. Consequently I do sometimes prepare "horoscopes" in the original and authentic Egyptian manner. I also use dice oracles based on Greco-Egyptian and Tantrik sources. I interpret dreams and other omens. My direct email (mandox2000[@]yahoo.com)
Books, Ebooks, Bonus Essays, Lectures, Misc

Isis In India
Work In Progress – Research into the survival of the cult of Isis in South India.
Ebook available on Isis In India
House of Life
A set of introductory magical exercises designed to complement Tankhem & The Bull of Ombos. Available free from House of Life
Strange Oxford
Updated ebook version of now out of print guide to local legends, ancient sites, folklore, magic and mystery on Kindle Ebook
Lectures & Podcasts (available for booking)
Discussion of Egyptian Magick Podcast (click on link)
Seething & Seidr (workshop)
Sexuality & Magick
Write & Find Ecstasy in writing: occult writing after the Witchcraft Act
Art & the Occult
Cult of the Hidden God
Egyptian Magick – General Introduction
Isis In India
Lunar Mysteries of Seth
Seth: personification of evil?
Abstract:
Contemporary magical practitioners have always been interested in the 'problem of evil' – the nature of good and bad action. Take for example Helena Blavatsky's statement – 'demon est deus inversus' to be found in her highly influential and monument work 'The Secret Doctrine' (1888:1.411). This was later adopted by the poet W B Yeats as his magical motto in the Hermetic Order of the Golden Dawn. Most practitioners believe that the ancient Egyptian god Seth is the prototype for the contemporary archetype of Lucifer, Satan or the Devil. I want to take a brief look, in context, at the famous image of Seth deriding Apophis, (the demonic / chaotic serpent of 'non-being') as a leitmotiv for the nature or 'personification' of evil in ancient thought.
View a short film on Typhonian Magick:
Related posts: