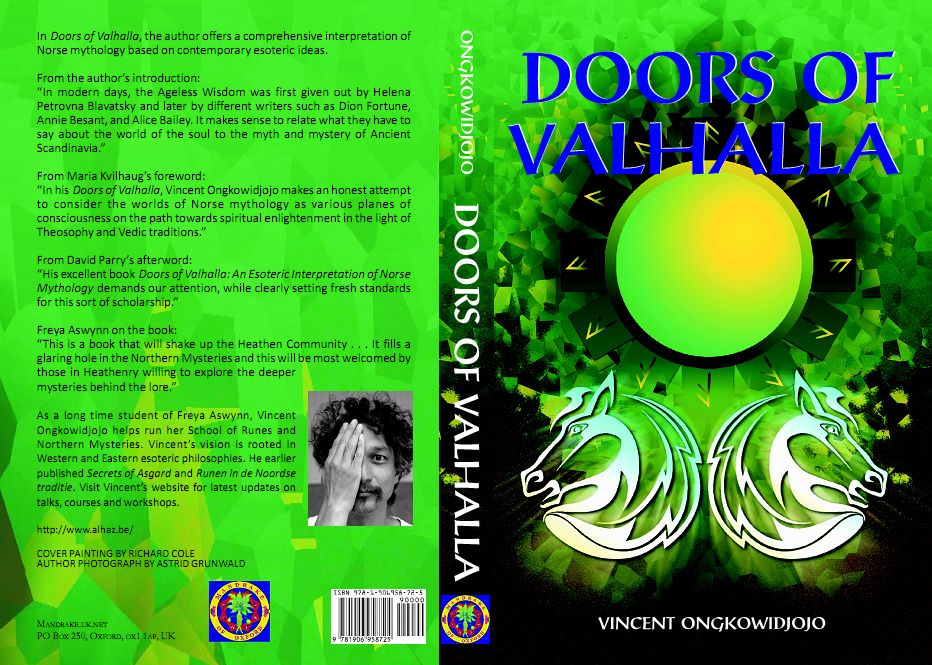 Click here for Kindle UK edition
Click here for Kindle USA edition

Doors of Valhalla
An Esoteric Interpretation of Norse Myth
Vincent Ongkowidjojo
Format: Softcover
ISBN: 978-1-906958-72-5
£12.99/US$23
Subjects: Runes/Odinism/Northern Tradition.
In Doors of Valhalla, the author offers a comprehensive interpretation of Norse mythology based on contemporary esoteric ideas.
From the author's introduction:
"In modern days, the Ageless Wisdom was first given out by Helena Petrovna Blavatsky and later by different writers such as Dion Fortune, Annie Besant, and Alice Bailey. It makes sense to relate what they have to say about the world of the soul to the myth and mystery of Ancient Scandinavia."
From Maria Kvilhaug's foreword:
"In his Doors of Valhalla, Vincent Ongkowidjojo makes an honest attempt to consider the worlds of Norse mythology as various planes of consciousness on the path towards spiritual enlightenment in the light of Theosophy and Vedic traditions."
From David Parry's afterword:
"His excellent book Doors of Valhalla: An Esoteric Interpretation of Norse Mythology demands our attention, while clearly setting fresh standards for this sort of scholarship."
Freya Aswynn on the book:
"This is a book that will shake up the Heathen Community. … It fills a glaring hole in the Northern Mysteries and this will be most welcomed by those in Heathenry willing to explore the deeper mysteries behind the lore."
As a long time student of Freya Aswynn, Vincent Ongkowidjojo helps run her School of Runes and Northern Mysteries. Vincent's vision is rooted in Western and Eastern esoteric philosophies. He earlier published Secrets of Asgard and Runen in de Noordse traditie. Visit Vincent's website for latest updates on talks, courses and workshops.

Related posts: