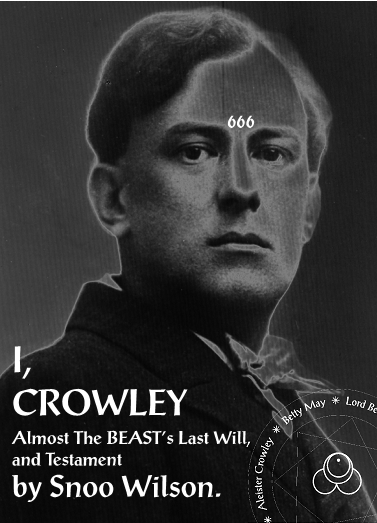 I, Crowley
Snoo Wilson
Format: Softcover
ISBN: 9781869928476
£9.99/US$20
Subjects: Occult Fiction

'I never killed Raoul Loveday with a magical spell.'
Aleister Crowley, otherwise known as the Beast 666, shared membership of the Golden Dawn with W.B. Yeats, and publishers with D.H. Lawrence. Now in a beyond-the-grave autobiography, he recounts his own vocation, his practice of sex magic, and his bruising encounters with his contemporaries.
The great magus, whose own world-conquering creed, The Book of the Law, was written in Cairo in 1904, was according to him, no murderer, but a prophet and practitioner of all kinds of sexual freedom and new magical systems.
'I shall continue to protest my innocence as long as I have a hole in my bottom.'
The Wickedest Man in the World? Or Post-Christian Messiah? Read this book and judge for yourself.
Extract
Reviews
'intriquing and sordidly entertaining' – Gay Times
'Brilliant . . . the Great Beast explaining himself in lapel-grabbing prose:'
– Simon Callow, Sunday Telegraph
'Excellent . . . perverse, funny and at times as inexplicably moving as its subject. Recommended'
– Fortean Times
'Probably the most fun you'll have with a British novel all year' – The Edge
…thanks to Snoo for a great book. Thoroughly enjoyed it. Made me laugh and cry. Excellent.' – Sparky
'. . . really good fun. Its not very kind to old Crow, and the language is a bit more vulgar than required (or than he would have used), but on the other hand. . . it does produce a charming caricature of Ye Great Beast that serves to perpetuate the myth. …Dear 666 would have felt flatttered… What I liked about the book, part from its jokes and the invaluable occult illustrations, is the contrast between Crowley as a human being (and egomaniac) and the Master Therion, the perfect ego-less adept he would have liked to be . . . Its the difference as between a Thelemite and a follower of Crowleyanity. Symonds' Great Beast was almost totally obsessed with the Demon Crowley, Wilson's novel is better balanced , it mixes the ego tripper with the Logos of the Aeon. This produces some confusion, and maybe this confusion is close to the conflicts that the real AC experienced. I suspect that he often got muddles up as to who was who in him and who cares, and put on his Great Magus Hat whenever his ego felt threatened and misunderstood. Considering that so many people are involved in the dull cult of Crowleyanity, and spend their time trying to be like the guru or wasting money collecting the master's underpants, a critical treatment of the person Crowley, such as you dared to inflict on the long-suffering public, is an excellent and much need magickal gesture.' – Jan Fries
Extract pages 25-31
It is time to meet Raoul Loveday.
He who was once my beloved, my Man. The year is 1918. We go inside the British Museum. The room is resplendent, a magnificent invocation of the age of the Pharoahs. You may hear my whispered voice but I shall only be 'directing traffic', as it were, a friendly astral presence.
Before we meet Raoul I should explain. In reality, at this moment, I was astride a fat black whore, very sensuous, three thousand miles away in New York in the heat of summer. If we stuck strictly with Greenwich Mean Time, she would be squealing delightedly as I slipped a cornucopia of products from the local ice house into her vas nefandum. But; – by virtue of my Parker pen, I am hovering here in the British Museum, in the Egyptian room, a ghostly Virgil, to guide you towards your meeting.
Come with me, oh sensation-seeking novitiates, past Babylonian lions, and giant relics of vast statues of the Pharoahs of Egypt. Let me move you past the mummies in their bitumen-soaked linen wraps, the golden scarabs and riddling sphinxes. Here a giant arm, there a huge disembodied head. Shelley caught fallen greatness in his web here over a hundred years ago. And yet, what is a hundred years to Ra and Osiris?
Sunlight shines through the boards, shafting into the exotic gloom. Peace has arrived at last, but the windows are still boarded up after Zeppelin damage.The atmosphere in here is of dark, brooding intensity. Footsteps on stone echo round the high ceilings. Sounds of hackney horse-drawn cabs filter through from outside, and an infrequent intrusive motor car.
A young couple are examining the exhibits. They have the glow of youth upon them. The young man is tale, pale and excitable, with flopping dark hair, his movements feline and attractive, the woman, short, older than him, brassy and self-assured. Yes! It is Raoul Loveday and his wife. This way, dear boy. Come and claim your dread destiny. The Museum is where your die will be cast.
Raoul is so overcome by the atmosphere breathed out by the relics, he cannot understand how anyone can not be equally moved. But Betty does not, cannot ever share his sublime thoughts.
Raoul's head is ablaze with the laws of numbers that underpin the firmament. Betty is thinking about the impression she made on his parents at their wedding. The age difference, do you see, must have been mentioned. Her being so much older than him, already tweaking and bleaching her tiny moustache, pulling in her flaccid stomach as she tummocks in the altogether for boys from the Slade Art School, who are all wearing berets and green corduroy smocks, and worrying whether they have, or do not have, the clap-
Betty and Raoul. Alone in the British Museum. With me, Like Raoul's Holy Guardian Angel, hovering above.
How did Raoul find me? In search of a mentor, he had written to me about the laws of magic in mathematics before the war, and I courteously returned his schoolboy enquiries by outlining some paths of exploration her could pursue relating to the numeric structure of the 'Qabal, and the relationship of p to the Sephiroth. We met, after the war, which as I am not afraid to say, I spent in America. I was almost too old to fight, certainly too wise to drown like a dog in Flanders mud. In any case, my services as a secret agent for the British Government having been refused,21 I had a mind to take America by storm.
When I came back to England, Raoul had grown into a man. But he had taken ether under my supervision. When he married Betty, she made him swear he would not touch me, or drugs again. Betty came from Soho, in London, and the prevailing 'wisdom' of artists models and tarts alike (Indistinguishable categories around the likes of Augustus John23) was that boys like Raoul had to be kept on the straight and narrow, or, in shopgirl parlance, they went 'to the bad'.
I will say one thing for Betty. She was never backward about supporting the pair of them, using her body. She was close to being that impossibility, an honest whore. Her cocaine intake had been stupendous, but she had pulled away from it.
'There was once a religion which could have united mankind. We have to rediscover the source of inspiration.' Raoul's whisper to her in that echoing room falls on stony ground. Betty's scornful rasp would have come back something like-
'I thought Mister Crowley had the secret already and went to America to keep it safe.' Never mind I was in two minds about getting involved in stupidest epidemic of hostilities in history. By the end of the conflict, The War Office in England had been bullied into conscripting anyone under forty five. In Betty's view if I had joined the Clerkenwell cattle on their way to the slaughterhouse, it would at least have got rid of me.
Raoul had told her that I wanted to work in Europe, and that I had plans for a idealistic community which he wanted to join. She of course sneered.
Raoul related to me how the tragedy snowballed after that. Betty had sneered first at me, then at Anubis. Anubis is the jackal-headed god, with a human body, who ferries the souls of the dead to the underworld. Anubis sees both life and death. There was a fine statue of him there. He is a kindly psychopomp unlikely to take offence.
Betty's third slight, which wound up destiny irrevocably, was to a priestess of Amon Ra, a most powerful lord of life and death, and unable, if you wish for my opinion, to take such a thing lightly.
According to Raoul, they were standing before the imposing mummy of the handmaiden to Amon Ra.
Betty began making flippant remarks, while poor Raoul was stuttering that he wanted the priestess to bless their wedding. Not even the high god, the priestess. Raoul was always humble.
Then Betty did this foolish thing. Her insult was to thumb her nose at the mummy, in a deliberate fashion.
Raoul begged her not to do it, to apologise.
Naturally, Amon- Ra could not overlook this insult to his handmaiden.
'What's wrong?' Betty said. The words dried in his mouth, he told me. He could not speak, and all he could think of was numbers. Behind her, Raoul could see a boarded up door with a message on it, which boded ill. It read NO ENTRY. ZEPPELIN DAMAGE. Just then Betty, undaunted by her new husband, to cap her insolence, stuck her tongue out as far as it would go, at the handmaiden of Amon Ra. Sometimes it is necessary to arrest insolent ignorance at the point of issue, or it breeds pestilence. If I had been in Raoul's shoes, wed to Betty, I would have fetched her a smack in the chops that would have carried her across the room, and put her out of modelling work for a week. Raoul, of course, being Raoul, kept his hands to himself. 'Betty! Stop!' Raoul whimpered.
The tongue, stuck out like Betty stuck it out is a particular insult to the Egyptian Eternals. For the old Egyptian language – (lost to us now, alas, we only have debased hieroglyphics) – is the closest we may ever get to the Words of the Creator.
The Tongue shares the blame for The Fall. Sometimes I believe I will meet one of the Secret Chiefs24 who will address me in that divine language. I speak prayers in Enochian,25 but the Highest Angelic discourse has not yet been reclaimed.
– To return to our thickened plot – Betty, having offended the gods with her tongue, (Hers went out a particularly long way, I noticed when they came to Cefalù) turned on one polished heel, like the slut she was, and walked smartly away. Her footsteps echoed. Raoul cried-
'Betty – come back and apologise – please.' Of course she did nothing of the sort, but continued titupping out of the room.
Raoul turned, full of foreboding, to the statue of Amon Ra himself. He sank to his knees to the stone god. The foolish boy tried to bargain, to protect The Model, his slatternly new bride. So much charcoal had been crushed by so many 'artists' depicting Betty's plumply endowed bush it is surprising the area had any mystery left in it. But Raoul was young. Like the doomed youths who went 'over the top' for Horatio Bottomley and the rest of the war profiteers, he took it upon himself to expiate others' crime with his own blood-offering. Raoul bleated to Amon Ra- 'Don't take it out on her. If there must be a judgement, great Lord, let it be on me – on me!'
Naturally, Amon Ra took him at his word.
Later, Raoul answered my summons to the Abbey, Betty reluctantly accompanying him. London, Dover, Calais, Paris, Palermo. Betty was spared but Raoul was called, and was buried by me outside the cemetery of Cefalu, with a huge crowd of Sicilians ogling the goings-on. Subsequently there was a great brouhaha in the Beaverbrook press about a 'Satanic' burial by the light of babies being burned, in unconsecrated ground. The same old lies that Christians have told about Jews for two thousand years.
The truth is, Raoul could not possibly have been buried inside the cemetery, he was not a Catholic. In fact, Raoul's soul had a fine send-off. We danced and sang and threw libations. The robes of the Abbey came in for applause from the crowds, who were openly disappointed when the magnificent show came to an end. It was the frankness and sexual openness of the community women which really touched the imaginations of the crowds of short, greasy Sicilian men. Even Betty had to admit that the funeral touched the heartstrings. If I had not been expelled from Italy immediately after, I would have been able to staff any number of Abbeys from amongst the local population. I sent Raoul off with my very best poem, one we used to recite almost daily in our rituals together, my 'Hymn to Pan'. If you cannot find a copy in your local library, do feel free to make your own Hymn.
I'm sure Pan will not mind.
Your fond uncle,
Related posts: