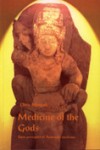 Medicine of The Gods
Chris Morgan
Format: Softcover/ ISBN: 1869928377 / £9.99/US$18
Subjects: Ayurveda/Indology/Tantra.
Ayurveda is an Asian medical system which has its beginnings in the sixth century BCE and thrives even to the present-day. There was once a celebrated doctor called Caraka who lived in the second century of our era. He was one of the greatest physicians that has ever lived. He recorded the fact that the gods themselves were perplexed by the continued existence of disease, which was a hindrance to humanity's progress to enlightenment. These same gods, he says, therefore prepared the way for Ayurveda, which literally means the 'science of longevity' to be taught to the human race. Thus the title of this book is Medicine of the Gods.
Medicine of the Gods is the first of a series that aims to introduce the physical and metaphysical concepts of Ayurveda to a non-specialist audience. Medical ideas underpin a great deal of Eastern thought especially Tantrism, alchemy, yoga and the science of love. The book is not intended as a series of health tips or as a textbook for the clinical practice of medicine, which in the Ayurveda tradition requires at least seven years intensive training. The book is aimed at students and lovers of South Asian culture, perhaps also anthropologists and others with a need for a straightforward introduction to the core principles of another scientific tradition.
Praise for first edition:
'The author's main purpose, introducing ancient Indian medical theory in a relatively trustworthy manner to the interested general reader in easy language, while at the same time being intellectually challenging, is served well by this book.'
-Rahul Peter Das in Traditional South Asian Medicine Vol 6 2001
'This book contains virtually everything you could want to know about the Hindu system of Ayurvedic medicine, which began on or about the sixth century BCE and is still thriving today. The history, correspondences or "humours', and other intriguing aspects of this intricate system are described in easy-to-understand language for those unfamiliar with Ayurveda. There is also a catalogue of ailments and how Ayurveda views each of them, and illness in general. I found this fascinating reading, both as a western herbal practitioner, and as a reader fascinated by how other cultures '
– Reviewed by Cerridwen Connelly in The Pentacle
Related posts: