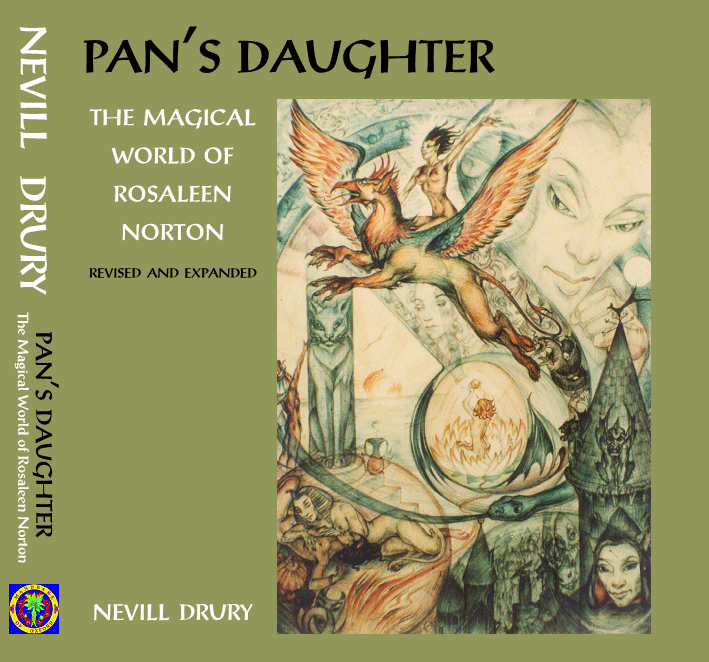 Pan's Daughter
The Magical World of Rosaleen Norton
(Revised & Greatly Expanded Edition)
Nevill Drury
Format: Softcover/326 pp/48 illustrations.
ISBN: 978-1-906958-41-1
£22.99/US$32
Subjects: Art/Art History/Biography/Occult/Witchcraft/Magick.
During the 1950s and early 1960s the Sydney-based trance-artist and Pan-worshipper, Rosaleen Norton, was well known in Australia as 'the Witch of Kings Cross' and was frequently portrayed in the tabloid press as an evil 'devil-worshipping' figure from the red-light district. Norton attracted attention from both the public at large and also the local police for engaging in bizarre pagan sex-rituals with her lover, the poet Gavin Greenlees. Details of these activities would surface from time to time in the local courts when Norton was defending her metaphysical beliefs and seeking to defuse claims that her magical paintings and drawings were obscene. Norton was also associated with the scandal that eventually engulfed the professional career of renowned musical conductor, Eugene (later, Sir Eugene) Goossens who had arrived in Australia in 1947 and became a member of Norton's magical coven six years later.
Norton dedicated her magical practice to the Great God Pan and to a lesser extent Hecate, Lilith and Lucifer. She was also intrigued by the visionary potential of Kundalini yoga, out-of-the-body trance exploration and Aleister Crowley's Thelemic sex magick and combined all of these elements in her ritual activities.
Pan's Daughter is the only biography of Rosaleen Norton and provides the most detailed and authoritative account of her magical beliefs and practices. First published in Britain by Mandrake in 1993, it is now reissued in a revised and expanded edition.
"Brilliantly researched…outrageous and inspiring"
Fiona Horne, author of Witch – A Personal Journey and Witch – A Magickal Year
"A fascinating study. Drury's understanding of the occult and spiritual realms makes Norton's art and life comprehensible" Tom Thompson, Sydney Morning Herald
Author photo by Lesley Drury
Dr Nevill Drury is best known for his publications on modern Western magic, shamanism and visionary art. For many years he worked in the Australian book industry as an editor and art book publisher and in 2008 he received his Ph.D from the University of Newcastle for a dissertation on the art and magic of Rosaleen Norton. Currently living on the New South Wales south coast, he now works as a full-time writer and occasional university lecturer. Nevill's books have been published in 25 countries. Recent publications include Sacred Encounters: Shamanism and Magical Journeys of the Spirit; The Dictionary of Magic and Stealing Fire from Heaven: the Rise of Modern Western Magic. He also co-authored The Varieties of Magical Experience with Dr Lynne Hume.
Cover: Timeless Worlds (courtesy of Wally Glover)